In-Person vs. Online Lash Lift Courses
In-Person vs. Online Lash Lift Courses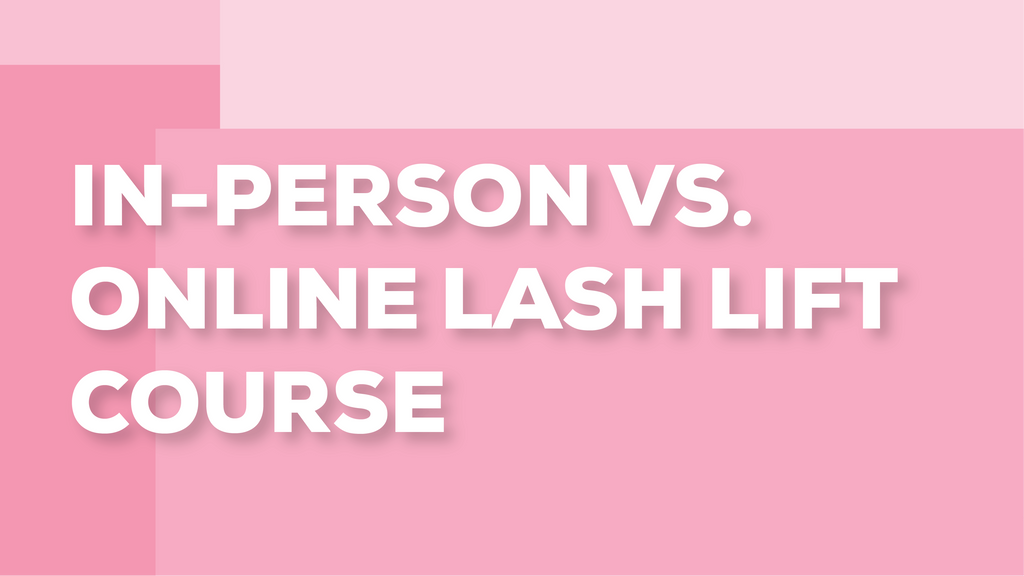 Lash lifts are very popular right now, helping eyelashes appear longer and thicker. If you currently offer this service to your clients, you can benefit from new insights into best practices and tips to improve your skills.
You can earn a professional lash lift certification in as little as six weeks while exploring new ways to wow your customers and connecting with industry experts. Chances are, you'll learn and grow substantially with the right course. Here are things to consider when choosing between an in-person and online lash lift course.
The Benefits of Lash Lift Online Training
While basic training and on-the-job experience can do a lot for your practice, there is nothing like getting up close and learning from another artist. This opportunity alone is one major argument in favor of seeking advanced training, but it's far from the only one.
Lash lift online training opens the door to more exciting (and often more lucrative) business opportunities. By honing your skills and learning new procedures, you can care for your clients confidently and improve how they look and feel.
Different brands may offer different takes on familiar favorites. With us, you'll have to option to learn both lash lifting and brow lamination through the lens of our proprietary method. You may get a chance to work with new tools, better quality cosmetics and enhancements, and unfamiliar approaches you would never think of trying on your own.
In-Person Training vs. Online Lash Lift Courses
What's the difference between learning in a classroom or choosing lash lift online training? Both offer certain benefits. We recommend taking some time to assess your needs and wants; every person is different and learns in their own unique way.
In-Person Training
In-person lash lift courses may offer some advantages, such as:
Equipment provided
Live demos
Hands-on exercises
Access to a real person teaching you
These things, however, may come with a higher price tag and a more intensive time requirement. 
Online Courses
Some lash artists may prefer online lash classes because they can learn at their own pace from the comfort of their homes. Additional benefits include:
No commute
Flexibility so you can plan each session around your busy schedule
Great networking opportunities because you are exposed to a broader group of colleagues that spans different geographic areas
Either avenue has a lot to offer, even for experienced lash stylists. An online lash lift course's convenience and economic advantages may push it ahead of in-person training for your situation. You can get an excellent lash education anywhere as long as you go into it with the right mindset.
What You'll Need for Lash Lift Online Training
After finding the online lash lift course you'd like to enroll in, you can complete the necessary forms. On our site, you'll find a convenient check-out portal that outlines everything you get when you sign up.
Many courses require you to stock up on your own cosmetology supplies and other learning material like notebooks and pencils, but others (including ours!) may provide some or all of these necessities. If cost is a factor for you, getting access to the required tools and materials is certainly a benefit.
Depending on the nature of the course and the techniques you'll be learning, the supplies you receive will vary. Here at Lash Lift Store we provide you with the next steps on how to view/access your course in your welcome email. During your training, we provide students with all needed materials.
Of course, the right attitude and an eagerness to learn are both musts when embarking on any new adventure. Wear a smile on your first day—you'll love every second.
Level up Your Skillset: Take an Online Lash Lift Course with Us
Should you consider lash lift online training, even if you're already a working professional? Absolutely! There's always something new to discover about your profession. As lash artists ourselves, we highly recommend it.
Knowledgeable professionals with thousands of hours of collective experience administer Lash Lift Store's fully accredited online curriculum. Sign up today to advance your craft and help your clients realize the best lashes of their lives.